When skiing or riding at Mt Hutt, it's important to follow the Snow Responsibility Code to ensure both your own and others' safety on the mountain.
Mountain weather changes very quickly. To ensure you are safely equipped for the day, make sure you check the full Snow Report before you travel to Mt Hutt.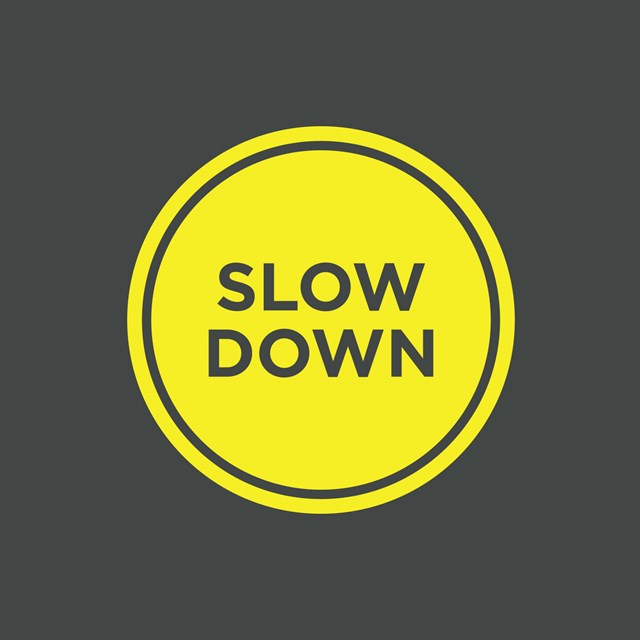 Limit your speed in busy areas. Match your speed to surrounding skiers and riders and be prepared for others to make sudden changes in direction or speed.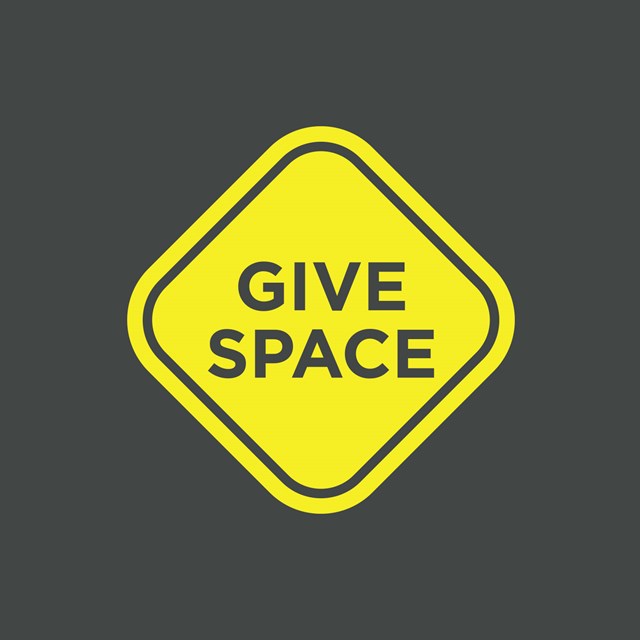 Stay 5m from others. If less than 5m from others you must slow down. The faster you go the more space you must give others.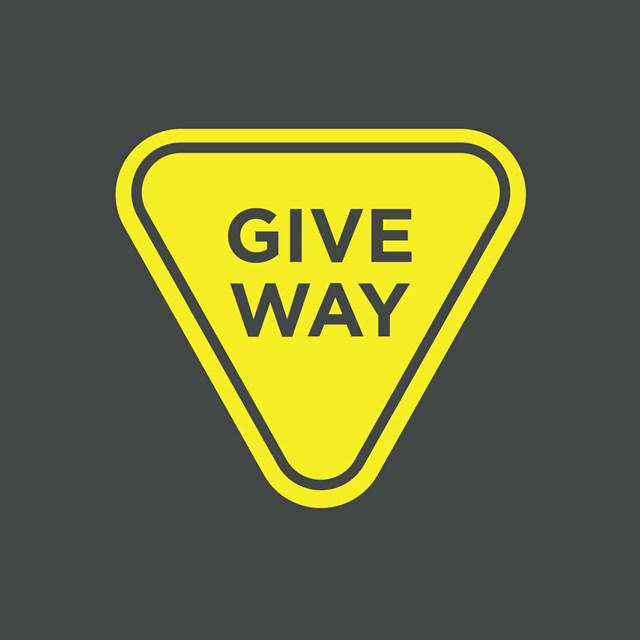 Give way to those downhill. Look before you leap. Snowboarders: take care turning onto your heel edge.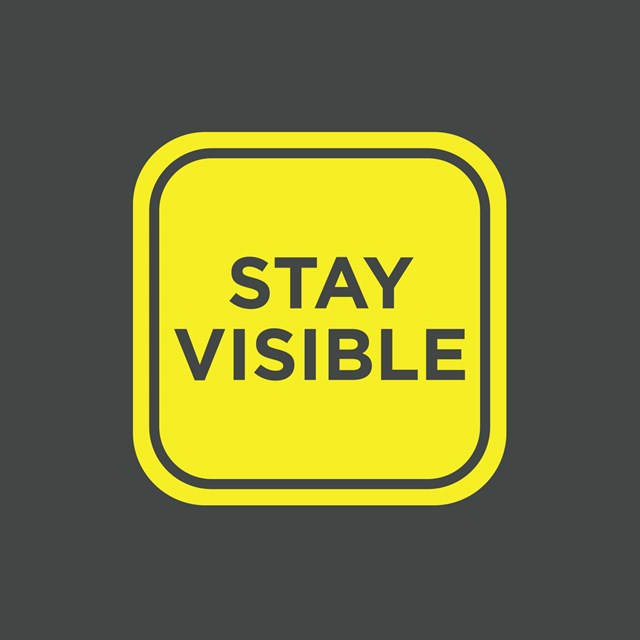 Only stop where you can be seen from above. Always look uphill before moving again. Only stop on the edge of trails or beside fixed objects.
Getting Here Safely
It takes around 1.5 hours from Christchurch airport to travel to Mt Hutt via car. If you're travelling from the nearby town of Methven, then this is about a 30-minute drive.

Due to the alpine nature of our access road, we require that snow chains are always carried in your vehicle, in the event of a quick weather change. A chain fitting area is located at the bottom of our access road.

If you'd prefer to take the bus, you can catch the Mt Hutt Ski Bus operates from both Methven and Christchurch. This is run by an external company, Methven Travel.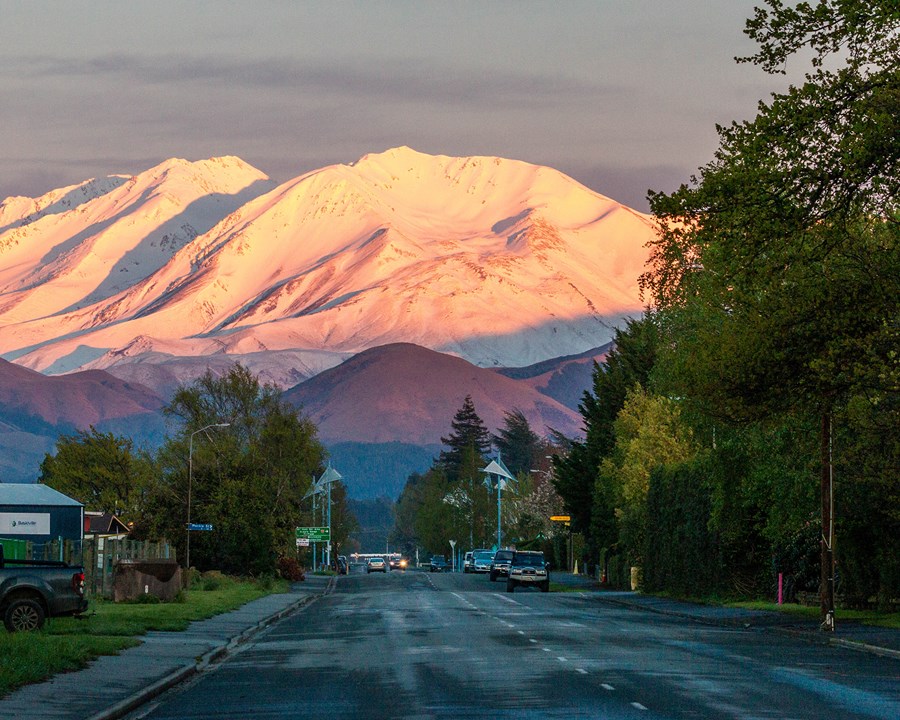 New to the Slopes?
If you're new to skiing or snowboarding, there are a few things you can do to make your day as safe and fun as possible. Grab a lesson with one of our highly qualified instructors and make sure that you familiarise yourself with the Snow Responsibility Code.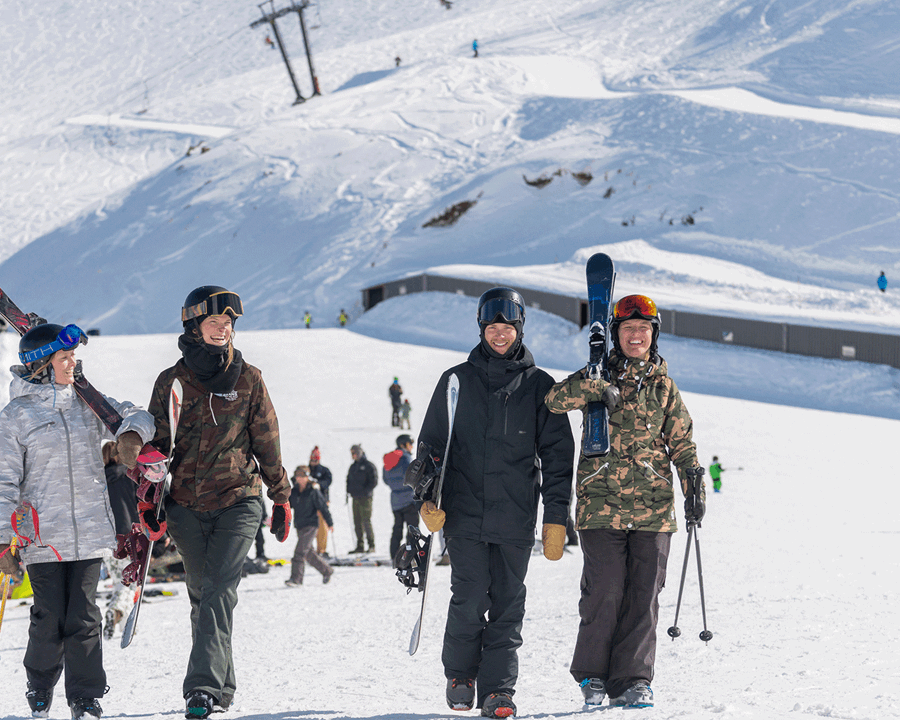 Report a Safety Incident
We always strive for our mountains to be as safe and fun as possible. You can submit feedback, or report an incident, hazard or event that happened at one of our mountains by using the button below.
Report an Incident/Feedback
Backcountry & Touring
It's important to make sure you're entering the backcountry to tour safely in the snow. Make sure you regularly check the snow and weather conditions and ski/ride within your ability when in backcountry terrain.
Learn More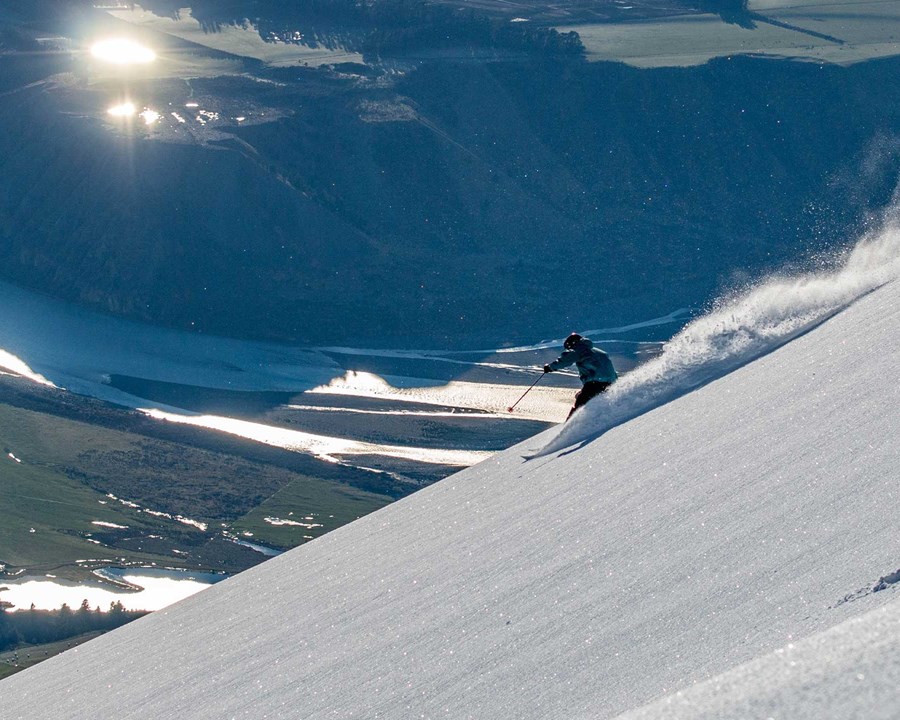 MOUNTAIN SIGNAGE
Maps and mountain signs contain information that can help you find trails and lifts, know when trails merge or if terrain is closed, learn where slow skiing/riding is required, and locate ski patrol.
Trail difficulty ratings are relative to each ski areas specific terrain. Work your way up from easier to more difficult trails. When in doubt about a trail or what type of terrain a lift serves, ask resort staff for guidance.
Do not enter closed areas. Ropes and closures are in place for your safety.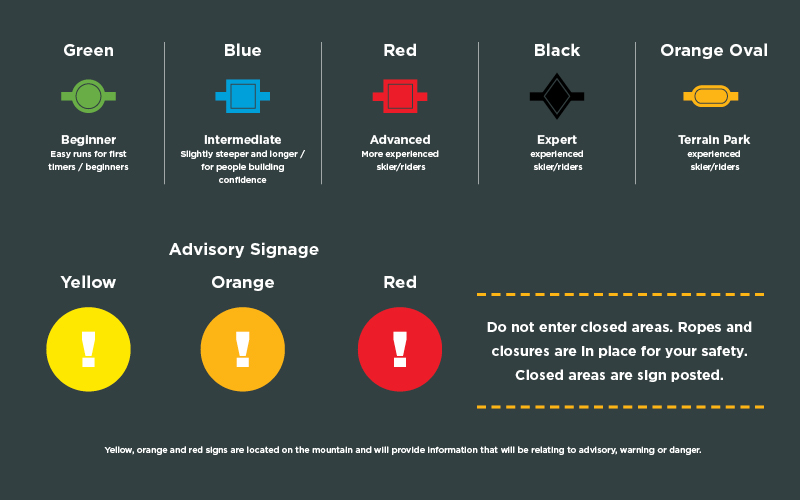 Policies
Children on Chairlifts
We are committed to providing safe operations for our guests, which includes loading children safely onto our chairlifts.
Mt Hutt requires all children below the height of 130cm in height, measured at the lift (in their ski/ride gear if applicable), to ride the chairlift with an adult.
Babies in Packs: Baby packs need to be removed and sat next to the parent, utilising one seat. Maximum of one baby pack per caregiver. 
Children taking lessons and any children riding together in groups (regardless of height) may be asked to ride with another adult guest, so they can assist with the safety bar or in an emergency. Confirm with the adult if they are comfortable to assist prior to loading a child next to them. 
This policy applies for all children who use the chairlifts for skiing, snowboarding and sightseeing. 
Smoke-Free Policy
Mt Hutt is a smoke/vape/e-cigarette free area, meaning that all smoking (including vaping and e-cigarettes) is prohibited from use on the mountain. 
This policy includes car parks, trails and our base areas. 
Lift Safety
Lift incidents are almost always avoidable. It's important (and part of Your Responsibility Code) to know how to load, ride and unload all lifts safely.
Loading
Remove pole straps from wrists and hold in one hand. Remove backpacks and hold in your lap. Remove back foot from snowboard binding
Be lined up with other guests and prepared to load before moving forward from the "wait Here" area.
After the chair in front passes, move from the "Wait Here" area to the "Load Here" area
At the "Load Here" area, look back and grab the part of the chair that is easiest for you, typically a side bar or backrest.
If you need assistance or there is a problem, SPEAK UP, and tell a lift operator.
Riding
Balance the chair and try to all sit in the middle
When a restraint bar is available, tell others and lower the bar when you can do so safely.
Sit back and remain seated.
Do not swing on the chair and ride respectively with other guests.
Never jump from the chair.
Unloading
Check for lose clothing / bags that nothing will get caught
Do not unload the chair until it is safe to do say. This is the area that specifies "unload here"
When you are close, lift the safety bar up, keep tips up and ski/ride off the chair in a straight line. Move away from the unload ramp as quickly as possible.
If you require the chair to be slowed – yell to the lift operator "slow chair"
Sightseeing/Foot Passengers
Please see our Guest Foot Passenger policy for more details.
Hazards/Obstacles
Look out for hazards and obstacles:
Both natural and man-made. We may use poles, flags, ropes, fencing, signs, and other devices to provide visual warnings. We do our best to mark all hazards and obstacles. Be aware of changing conditions.
If something requires Patrol's attention, please notify a member of staff immediately.
Look out for over-snow vehicles:
They may be on the slopes heading uphill or downhill, so stay clear of them at all times.
CCTV Privacy Notice
NZSki Limited issues this Privacy Notice to inform our guests of the scope of the personal information that is collected with its Closed Circuit Television (CCTV) system and your rights in relation to that information. Nothing in this Notice limits or excludes your rights under the New Zealand Privacy Act 1993.
NZSki has CCTV monitoring and recording capabilities at selected sites. This includes Coronet Peak, Mt Hutt and The Remarkables ski areas as well as our Snow Centres, head office and operations facilities in Queenstown and Methven. CCTV cameras are primarily located in guest services, restaurants, cafe, bar's and other public areas. Additional cameras are located throughout the properties owned or operated by NZSki that cover sensitive areas and processes. Signage advising of CCTV equipment will give notice of public areas covered by such equipment. The purpose of collecting information via our CCTV system is to support the compliance of our Health and Safety and Liquor Licensing obligations as well as supporting the reduction of crime and damage to property. Video footage may also be used to enhance safety training to our staff.
Audio is not recorded.
The security and integrity of your information is of the utmost importance to us and NZSki takes all reasonable steps to protect personal information against loss, manipulation, misuse and unauthorised access. NZSki employs protections against unauthorised access to personal information. NZSki may make archived CCTV images available to official government agencies in accordance with principles 10 & 11 of the New Zealand Privacy Act. Individuals who have been recorded by our CCTV cameras have the right to access that footage and to make any corrections so long as that information relates to you and is reasonably accessible. Video footage is stored for a maximum of 10 weeks unless its archival is required for one or more of the aforementioned reasons. The length of storage of footage varies between cameras so the information may not be available at the time of your request.
You may request confirmation of whether or not NZSki holds personal information about you and if so, you may request access to this information. Access will be granted unless one of the grounds for refusal, listed in the New Zealand Privacy Act, applies.
Any queries about this privacy notice should be directed to:
Brian McAtamney
Chief Information Officer
PO Box 956
Queenstown
Frequently Asked Questions
WHAT MEDICAL FACILITIES ARE ON THE MOUNTAIN?
At Coronet Peak, The Remarkables and Mt Hutt we have a doctor and at least one nurse as well as ski patrollers on duty from 8:30am – 4:30pm every day.
We provide emergency care and medical treatment for all guests and staff. We can arrange referrals to other medical facilities for further treatment if required.
Ski Patrol monitors our mountains constantly and can be approached for assistance at any time.
There are first aid kits throughout the resorts and Automated External Defibrillators (AEDs) located at appropriate locations. We do not have x-ray facilities on-site.
Anyone receiving treatment will be subject to a surcharge, which is payable on the day.
What should I wear?
Here's a few tips to make sure you pack appropriate clothing, so you can stay dry and warm:
Make sure that you dress warm when you plan to be visiting the mountain. Make sure that you wear water and wind-resistant outerwear, as well as layers to accommodate changing conditions.
Don't forget to pack sunglasses or goggles and some sunscreen too - even though it's cold (or even overcast), the sun can be out in full force. 
Wear a properly fitted helmet with the chin strap securely tightened to help prevent or minimize injuries.
What do I need to check on my equipment?
Ensure you have your bindings inspected and correctly adjusted by a certified technician
Make sure your technician checks that your skis are tuned correctly.
Not sure who to see? No worries, we have you covered. Check out our friendly teams in the rentals department - they'll see you right.
Any other tips before clipping in?
Make sure you warm up properly before setting off for the day.
Warm into the harder runs as your day progresses. 
What do I need to pack in my car?
Always carry snow chains with you, even when the sun is shining. Before you head up the mountain, make sure you've tested your snow chains and know how to put them on safely. 
Conditions change quickly and you may require chains to leave the mountain safely, even if you didn't need them going up.
Only fit chains in our designated chain bays.
Can I use chain socks?
You can't use chain socks on your vehicle at Mt Hutt.
Chain socks are not to be used on metal/gravel roads that we have at The Remarkables and Mt Hutt.
What are drop zones and how do I use them?
Drop zones are areas right at the main mountain building where you can drop your family and snow gear off before you park your car. Remember this is just a drop zone, so be ready to all depart once arrived.
Drive with extra caution in these areas as there are many kids, vehicles reversing and gear.
What is Carpool Priority Parking?
There are times when we implement carpool priority parking - this will be announced on social media and the weather report on the day. 
If you have three or more people in your vehicle, be sure to know you will have priority carparking up top. 
If you have less than three people in your vehicle, you'll be directed to our lower carparks and can jump on our shuttles from there.
We encourage you to use our Drop Zone. It's the easiest way to unload your passengers and gear at the base building before parking.
How can I get to Mt Hutt if my vehicle isn't suitable?
Not sure about driving yourself on the access roads? No worries at all - we have a Ski Bus service which runs from Central Queenstown to The Remarkables.