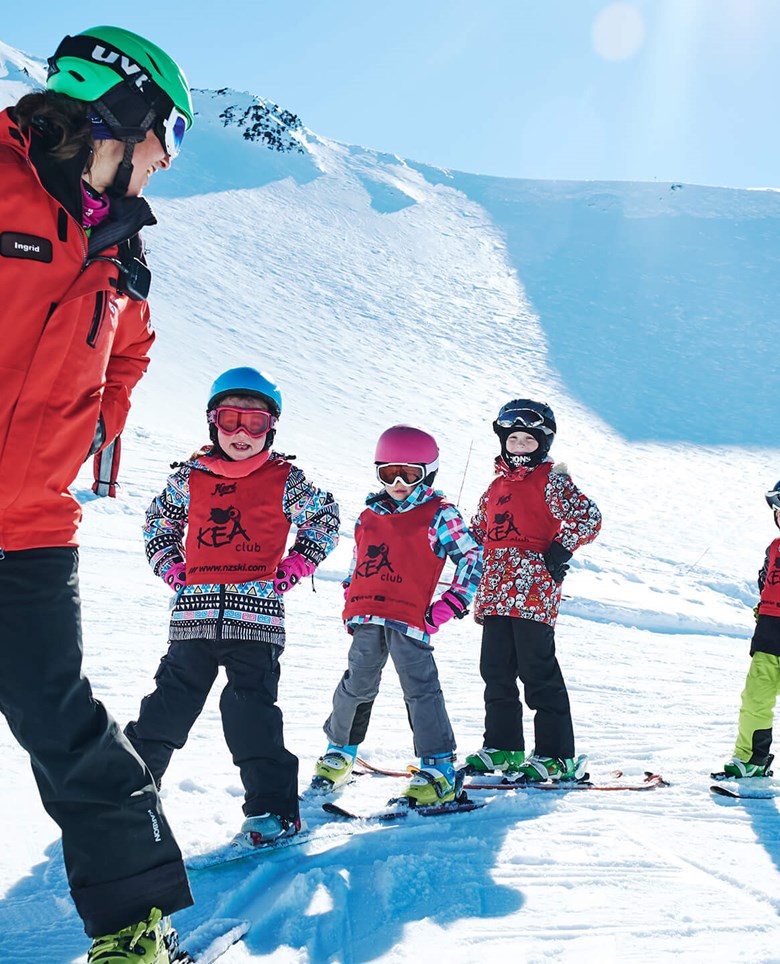 School Groups
Taking children out of the school environment can provide them with awe-inspiring experiences that they will remember for the rest of their lives. A school ski trip to Mt Hutt provides a unique opportunity to support learning in ways that are consistent with your school's curriculum and charter.
Make a Booking Request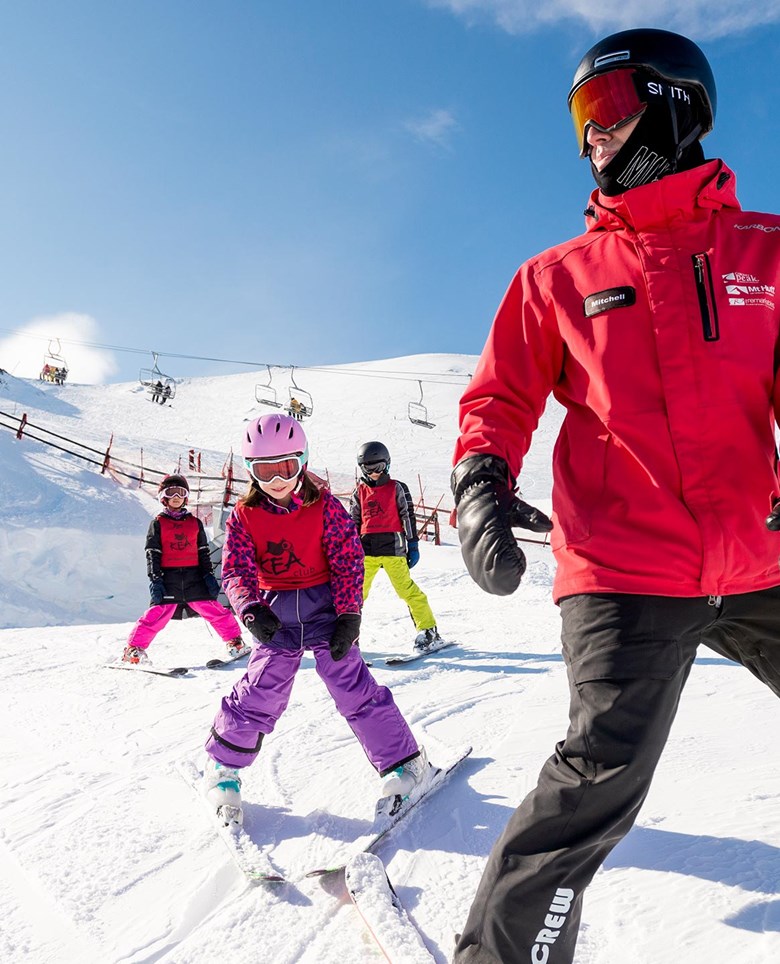 Why Visit Mt Hutt
One of the longest snow seasons in NZ.

A fantastic learner's area.

Wide-open terrain with plenty of runs for skiers and riders of all abilities.

A spacious base area with space for your group to relax when not on the snow.

A well-managed and established teaching program supported by inspiring instructors who offer serious fun in a safe learning environment.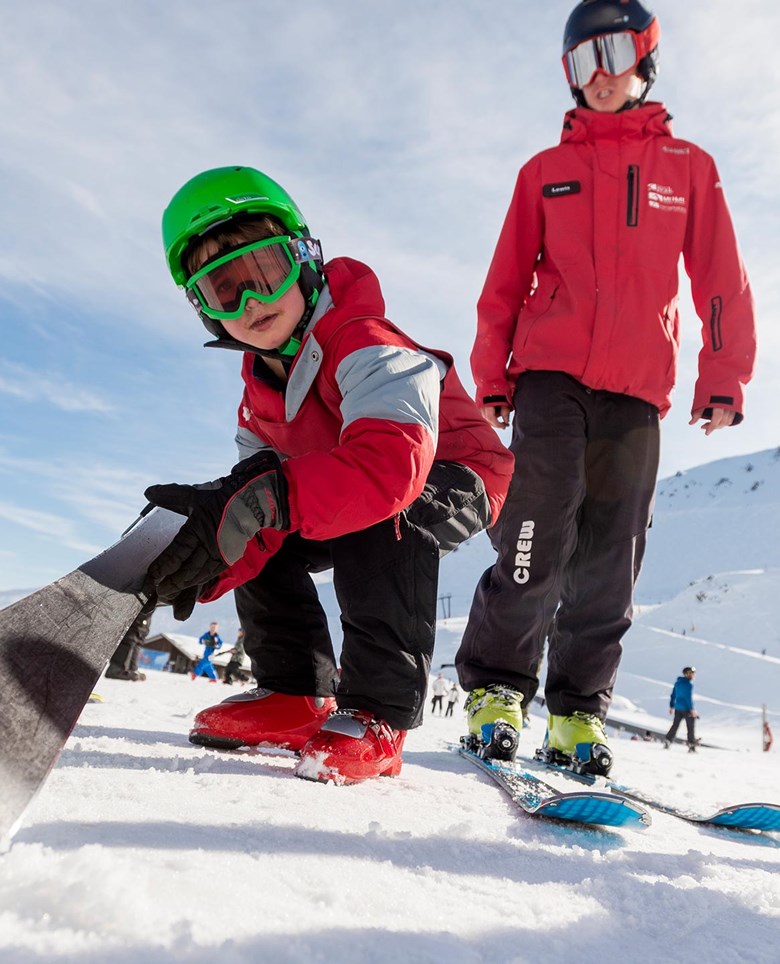 NCEA Credits
For a learning experience the kids won't forget, time on the snow can count towards national curriculum qualifications. Students are encouraged to maximise their time with us by working towards NCEA credits in skiing and snowboarding.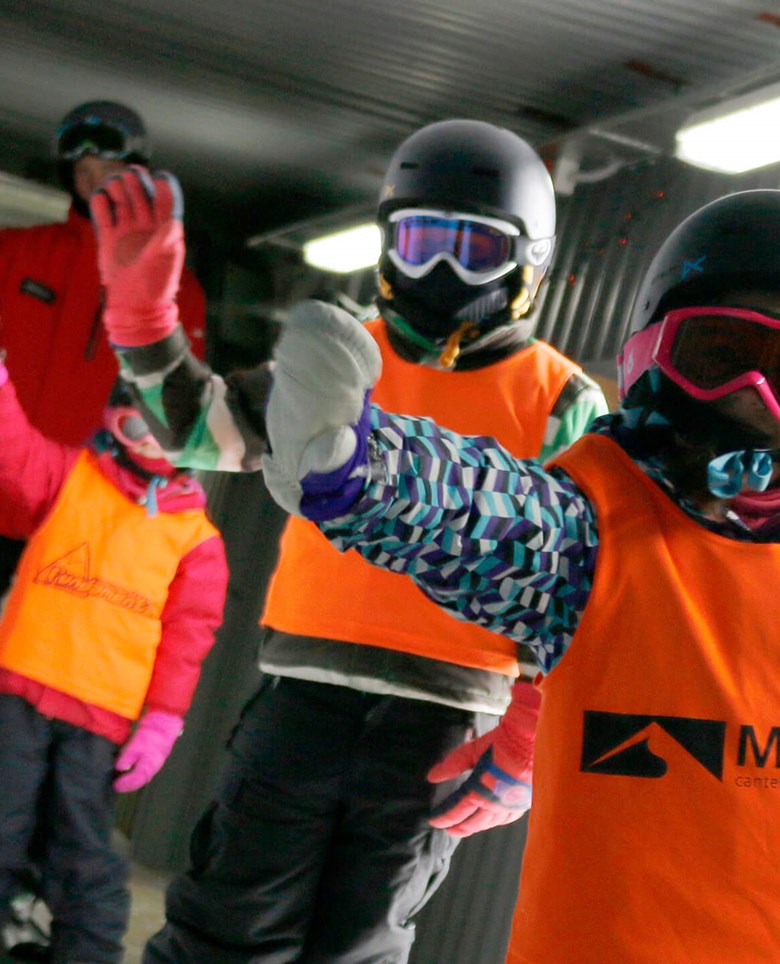 International Schools
Mt Hutt offers a special package to Australian and International schools. Find all the details and pricing. Students must be 18 years and under - simply book now and pay in advance direct with Mt Hutt Group Bookings. This package is not available to university students or schools booking through an agent or third party intermediary.

Contact us directly for more details: groups@mthutt.co.nz or call us on: +64 3 307 6315.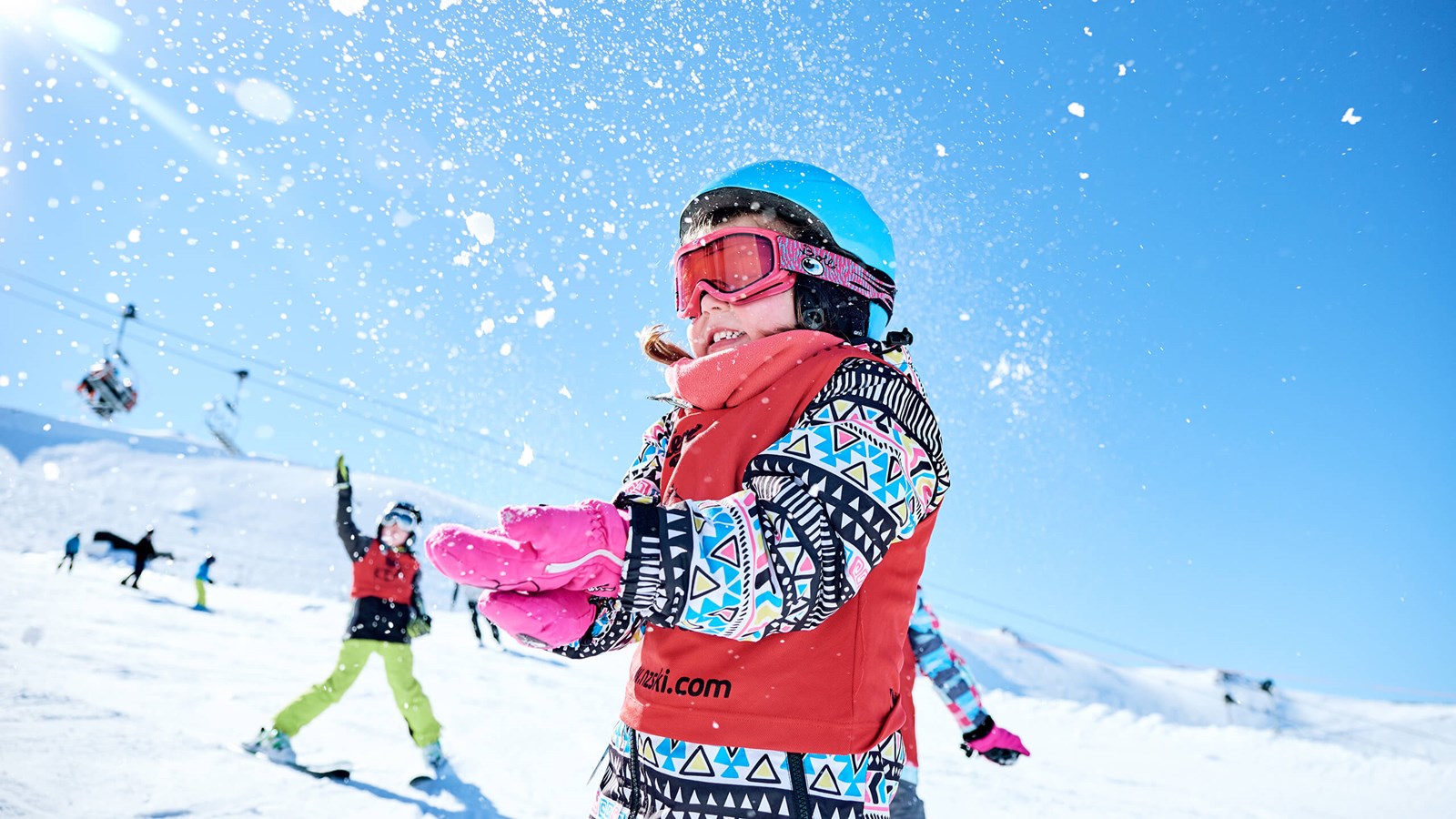 Our Group Bookings team is here to ensure a smooth and simple process for every group. Please read through our Group Booking Planner for all the details and pricing. Contact us directly for more details: groups@mthutt.co.nz or call us on: +64 3 307 6315.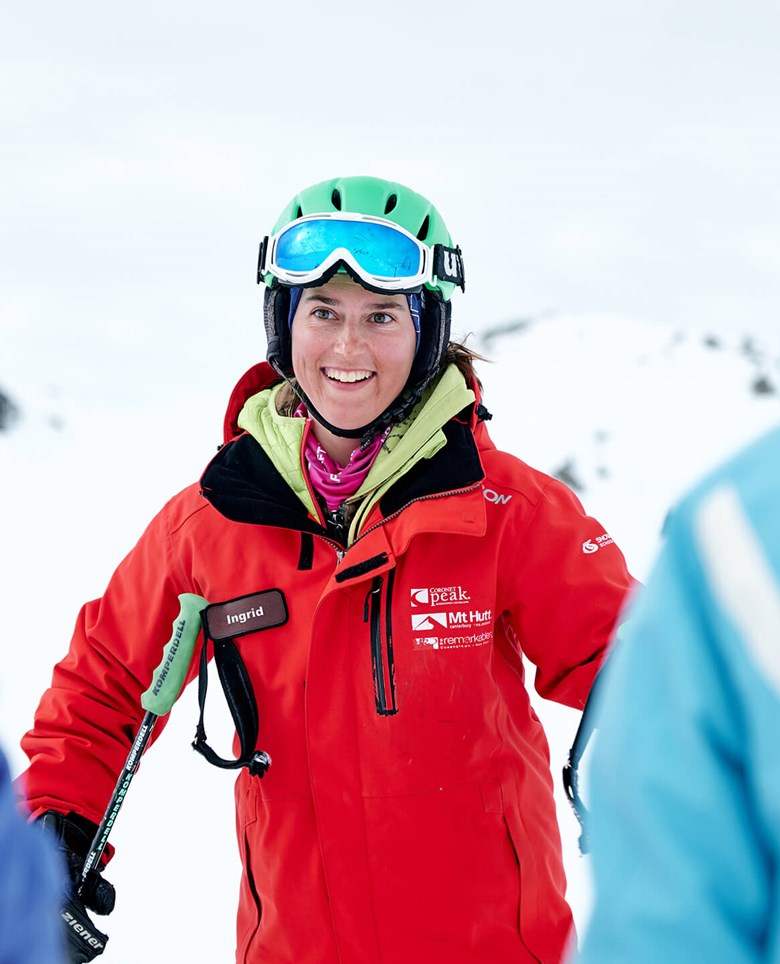 New Zealand School Programme
Schools and non-profit youth organisations based in New Zealand, qualify for our regional rates and programmes*. With different programmes on offer, there will be one to best suit your group! Conditions apply.
FAQs
Do you have a School Booking Teacher Toolkit?
We sure do! At Mt Hutt, we love getting kids on the slopes, and what better way to do so than by getting schools involved? This information has been put together to help aid you from your initial enquiry all the way through to your day on the mountain. This includes a step-by-step guide for you to follow that covers travel times, how to gather information from your students, RAMS documents, transport information and much more to help you through the process. Throughout this information you can find the following helpful documents:
How do I book a School Group?
You can enquire about a booking here.
When enquiring we require the following information:
School Name
School and Group Leader Contacts
Approximate numbers in your group
Date you'd like to visit
Lesson time you'd prefer (9am or 11am).
Rental equipment requirements
We will let you know the availability of your requested booking and organise an alternative date if your original request is not available. If your dates are available, we will send you an initial quote. We will then send you a link to collect important information about your group.
Payment
All our payments must be received no later than 7 days in advance. You will receive a refund for students that do not attend on the day, less a $10 admin fee. A 100% refund will be provided for confirmation of students not attending 48 hours in advance of your trip.
Two weeks prior to your visit you may find it useful to double-check:
The number of students still attending
The number of adults still attending
If anyone needs clothing
Having this information earlier will mean we can finalise payment for your group much easier. We only accept electronic payments via credit card or bank transfer. There is no surcharge for credit card payments. Please ensure to allow two business days for bank transfers.
If you would like to reschedule your booking due to adverse weather, we will need a minimum of two days' notice to avoid a cancellation fee of $10 per student. If you go ahead with your original booking, and we are not operational on the day of your visit, we will liaise with you to reschedule another suitable day, subject to availability.
What information do you need about my group before we arrive?
To get everything ready for your arrival, please fill out the Key Information Sheet using the button below. We will need to collect details including:
Each student's name
Age
Discipline
Ability level
If they require clothing
This information is used to organise all the group lessons and rental equipment for your group before you arrive.
Key Tip: We often find that when asking students for ability levels they can sometimes think they are better skiers and boarders than they are. This is quite often so they can join in a group with their friends. To avoid having to move anyone down a level and into another group, which can be upsetting for the kids, if you're unsure of a child's skill level always opt for the lower ability level. That way when the kids excel, we can move them up a group - which is a great morale boost!
For a full ability guide please find this here.
Contingency Planning
We operate in an alpine environment, so it's always best to be prepared for bad weather with some contingency planning. As mentioned in the above steps, we will need at least 48 hours' notice to change your group booking to avoid a cancellation fee. A cancellation fee will be charged at $10 per student, should you choose not to visit us on your scheduled day, and we are still operational. In the event we are closed, there will be no cancellation fees. If the weather is looking inclement for your visit, we will be in touch to go through your options.
If we are closed, we will try our best to reschedule you for another day, at no additional charge, subject to availability. If we are unable to reschedule you, you will receive a full refund for any amount paid in advance.
What gear do students need to bring?
To ensure your group is well-prepped for their day on the mountain, we recommend sending our gear list to parents.
We stress that you do not have to have the most expensive gear for your trip to the mountain, whilst it is important to have the right gear for alpine conditions, there are great cheaper substitutes for the expensive gear out there. We offer waterproof ski clothing to hire for an additional charge.
What about accompanying Adult Supervisors for schools?
Supervision of students is the responsibility of the school or group organising the group excursion. Supporting adults attend in a supervisory capacity; it is up to the teachers and accompanying supervising adults to maintain supervision of all students for the day of the visit to ensure that safety is paramount. Please make sure to read the Information for Supervising Adults document for information and useful tips.
Do you have a Risk Assessment and Management (RAMs) form?
Yes we do. We know that filling out Risk Assessment and Management (RAMs) forms can sometimes be daunting, especially if you've never visited our ski area before. We have put together a RAMs form specifically for Mt Hutt Ski Area. We recommend that you compare this to your own school or organisation's policies regarding health and safety management before use. If you wish to compose your own form, we have left this as a word document for you to edit.
How can I check the weather before my trip?
As we are situated in an alpine environment our weather can change very rapidly. You can check our Snow Report which is updated daily at 6.30am. This is the most up to date source that provides information on mountain status and the forecast for the day. Metservice also provide a detailed forecast specific to Mt Hutt.
School Group Transport
It is paramount that your trip to the mountain is safe and comfortable. You may already have your own transport provider, however, if you're unsure who to book with, our recommended transport operator is Methven Travel. Methven Travel has many experienced drivers that know our access road well in particular. They have been transporting guests to our ski area safely for many years.
To help with booking your travel, please find travel times below. Please note, that if chains are required on your vehicle due to road conditions, you should add a further 25 minutes to your journey time.
To check mountain and road status check our Snow Report which is updated daily by 6.30 am. Please be aware that there can be delays on this due to the weather.
Please also be aware that we generally cannot extend lesson times on the mountain, should you arrive later than your scheduled lesson start time.
How long does it take to travel to Mt Hutt?
Mt Hutt Travel Times and Distances:
35 minutes or 26 km from Methven
1:40 hr or 114km from Christchurch
1 hr or 60km from Ashburton
1:50hr or 124km from Timaru
Please note that travel times are approximate, please be aware that weather and road conditions may affect the time it takes for you to get to the mountain. Always make sure to check if chains are required, via our snow report, that you allow for extra time.
| | |
| --- | --- |
| Travelling to Mt Hutt Ski Area from: | Drive time: |
| Methven | 40 Minutes |
| Ashburton | 1 hour |
| Rolleston | 1 hour |
| Christchurch (Airport) | 90 Minutes |
| Geraldine | 90 Minutes |
| Timaru | 2 hours |
| Christchurch (Sumner) | 150 Minutes |
You should always be as prepared for the journey on the access road as you are for the mountain. In case of a breakdown or a quick weather change, you should always make sure to wrap up warm, with plenty of available snacks and water in case you are stationary for any length of time. We always strive for the safest conditions, however, it's always best to be prepared for all situations.
What happens when our group arrives?
On arrival to our ski area, you will be greeted by a member of our schools and groups team. Please be aware that we deal only with the group leader on the day of your visit to avoid miscommunication at any time. Here we can attend to any changes and no-shows from your booking. Please ensure to not head into Rentals until you have been given the go-ahead by our team as we may have another group already collecting their equipment. We will contact our Rental department and Snowsports School to let them know your group have arrived to have our rental team ready to help you and instructors ready to go!
Before heading in to collect your equipment we require that all students leave their belongings in our free cubby holes located on the main deck. This is the best time to stop by the toilet after a long drive, before heading to Rentals to collect equipment. When heading to Rentals, please enter via the rear from the main double doors to the Ski High Café, heading past the pole collection and Rental workshop.
Rental Equipment
We have a large rental fleet on hand to accommodate your school group as best we can. Please be aware that, although we always strive to fit your group with any specific requirements, we may be limited due to stock availability. To make collecting your equipment as quick and simple as possible, we recommend writing each student's weight and shoe size on their hand. This allows our Rental Technicians to gain the information they need for fitting out the kids with gear extra quickly.
Your school will have a box with your name on it for students' shoes. Please be aware this is for shoes only; all other belongings are to be left in the cubby holes on the main deck.
Helmets are included for every student or adult helper, as it is a minimum requirement that all students attending a school trip must wear a helmet. If some members of your group are snowboarding, they can also grab some wrist guards too!
Quick tips for getting through rentals:
You only need one pair of good socks!
Don't tuck your pants into your boots (these should be left outside the boot).
You don't need to take your ski boots off for us to set skis! Make sure you keep them on and head to our ski and snowboard area.
Grab your poles and helmet at the end. You can find these on the way out of Rentals, where one of our friendly staff members will be there to help you.
If any of your party needs additional clothing, just let us know, and we will organise to have those students/adults that require waterproof gear to our clothing area in one group to get them fitted up before collecting their gear. Please be aware that clothing is charged at an additional cost. After each student has collected their gear, they should head out to the snow where our instructors will meet with them for their lessons!
Snowsports
We ask for the abilities of your group in advance, so we can split your group into separate lesson groups prior to your visit. It is important that the students stick to their allocated levels and groups for the duration of their lessons, as these have been carefully worked out to enable your group to gain as much from their lessons as possible.
As a safety precaution for all beginners, at the start of the lesson, we will collect each student's lift pass. This means they will not be able to gain access to the chairlift until they are of suitable ability. Passes will be kept in our Snowsports office by the main meeting area for lessons. Passes will be reissued to students provided a supervising adult accompanies students to collect passes and is able to supervise them on the upper lifts and slopes for their safety. Alternatively, all collected passes may be returned to the group leader at the end of the lesson. In this instance, if a student would like to access the chairlift after their lesson, this is at the discretion of the group leader. The students must be accompanied on the mountain by school staff or supervisors.
Whilst we will provide all the support we can, it is the responsibility of the school to chaperone and ensure the safety of the students on the mountain. Our instructors once finished with the duration of the lesson, will not be able to accompany students on the mountain for the rest of their ski day.
Safety
Our mountain operates a patrolled area for your safety. All guests accessing our mountains are required to adhere to closures, signage, and the Snow Responsibility Code.
If you have any students with specific medical requirements, please let us know in advance so we can advise our medical team. NZSki operates a Children on Chairlifts policy. NZSki requires all children less than 130cm in height, measured at the lift (in their ski/ride gear if applicable), to ride the chair with an adult. Our staff will assist where possible to ensure that children less than 130cm in height are accompanied by an adult, including during lesson times.
NZSki requires that the organising school or group advises all accompanying supervising staff and adults of the requirements of their supervisory role and our safety policies.
Accessibility
We want to provide an accessible environment for all. Adaptive assistance can be provided for a range of needs, please ensure that notice is given no later than three weeks in advance of your trip. 
Private adaptive lessons are available to those that require them. Adaptive lessons are charged at a reduced rate from our standard private lesson rate. Lesson charges do not include a lift pass and rental equipment, but this will be offered at the best available rate in addition to the private lesson.
We offer sit-ski and adaptive lessons on an availability basis and cannot guarantee that lessons will be available on your booked date. For those requiring a sit-ski adaptive lesson, we will require additional details of the participant, including height, weight, and level of experience on a sit-ski.
If you require disabled access parking, please notify us at least one week in advance so we can ensure this is reserved for you.
Who do I contact for School Group Bookings?
For your day on the mountain, your best point of contact is Guest Services. For all enquiries, you can contact our Groups Coordinator on 03 307 6315 or visit the Guest Services desk. For all email enquires you can reach us at groups@mthutt.co.nz.